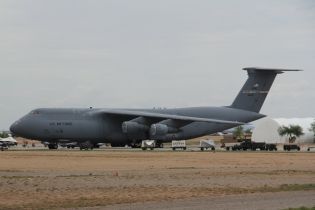 C-5 Galaxy Lockheed Martin:

"As the Air Force's largest and only strategic airlifter, the C-5 Galaxy can carry more cargo farther distances than any other aircraft. With a payload of six Mine Resistant Ambush Protected vehicles (MRAPs) or up to five helicopters, the C-5 can haul twice as much cargo as any other airlifter.
The C-5 entered operational service in 1970 and has been a vital asset in every military operation since that time including Vietnam, Desert Storm and Operation Enduring Freedom. It has also been essential in humanitarian relief efforts including hurricane Katrina, tsunami and earthquake relief.




With a service life that stretches beyond 2040, the C-5 will remain a central figure in strategic airlift for decades to come. To meet that goal, the C-5 is undergoing a set of modifications that transform it into a C-5M Super Galaxy."