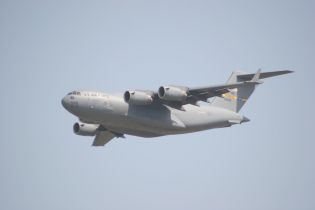 C-17 Globemaster Boeing:

"The C-17 Globemaster III is a high-wing, four-engine, T-tailed aircraft with a rear loading ramp. In 1980, the U.S. Air Force asked for a larger transport that could be refueled in flight and use rough forward fields so that it could fly anywhere in the world. On Aug. 28, 1981, McDonnell Douglas won the contract with its proposal to build the C-17.




The first C-17 squadron was operational in January 1995.




With its 160,000-pound payload, the C-17 can take off from a 7,600-foot airfield, fly 2,400 nautical miles and land on a small, austere airfield in 3,000 feet or less. The C-17 can be refueled in flight. On the ground, a fully loaded aircraft, using engine reversers, can back up a 2 percent slope."