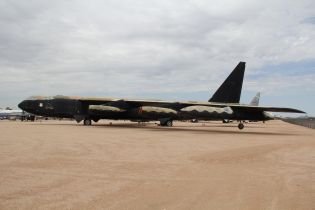 B-52 Stratofortress Boeing:

"By the 21st century, the Boeing B-52 was in its fifth decade of operational service. The eight-engine, 390,000-pound jet was the country's first long-range, swept-wing heavy bomber. It began as an intercontinental, high-altitude nuclear bomber, and its operational capabilities were adapted to meet changing defense needs.




Throughout the 1950s, the B-52 chalked up numerous distance and speed records. It cut the round-the-world speed record in half, and in January 1962, it flew 12,500 miles nonstop from Japan to Spain without refueling. This flight alone broke 11 distance and speed records. The B-52s saw active duty in the Vietnam War, were used in the Persian Gulf War in 1991 and over Afghanistan in 2001."